Hilda Perez Elizondo
11/29/1934 - 12/04/2021
Obituary For Hilda Perez Elizondo
Hilda Yolanda Perez Uruñuela de Elizondo passed away on Saturday, December 4, at the age of 87. Her daughters, Maria, Angelina, and Cristina, and her family mourn the loss of their dear mother and querida Lela but are comforted to know that she is no longer in pain and has joined her husband Rosendo Alberto Elizondo, Lelo, in eternity.
She was born in Piedras Negras, Coahuila, Mexico in 1934. There is no question Hilda was a woman born ahead of her time. At a very young age she applied her natural leadership skills and her determination to succeed with her family. Her aspirations were to become a Dentist. However, it was understood the family was only in the position to send one child to college, which in that time, that privilege belonged to the male in the family. Hilda Yolanda wrote to the President of Mexico requesting a scholarship. Although the scholarship was not granted, the President sent a personal letter to Hilda admiring her resourcefulness and suggested other career paths for women. Hilda was practical and went on to a Secretarial trade school, where she graduated at the top of her class. Her first job was a Bank Teller and was quickly promoted to the Bank Supervisor. Although she was only 18, she was responsible for all the books in the local bank.
Her determination to succeed was driven by her fierce devotion to her family. She was the sister that assessed and prioritized what was needed to help her family. An example of this is the purchase of the first family car in the early 1950. She collected weekly payments from each of her siblings until they had enough money to buy their parents the car, "the Canelo." Hilda Yolanda's support of her parents continued through her parents' lifetime, which included remodeling the family home in Mexico, so there was enough room and comfort for all the Perez Uruñuela extended family gatherings.
She and Rosendo married in 1958, and moved to Union City, California. It was difficult to leave her beloved family and Mexico, but one that was required to provide opportunities for her future family. In partnership with Rosendo, she took a job at the Cannery where Rosendo also worked. She immediately knew this was not the life she came to the United States for and returned to Mexico. A few years later, the family returned to the United States. While raising her daughters, she went to night school, learned English and applied for a job at the Newark Unified School district as a librarian clerk. Her strong work ethic led her to be head of the Graphic Arts Department where she retired after 32 years of service.
Hilda was in that class of strong women who would not stand for being minimized or disrespected just because she was a woman or because she was Mexican. She believed that her daughters had an advantage in life because they were from two Countries and spoke two languages. At a time where "blending in" was expected, Hilda firmly believed her daughters did not need to blend in but needed to stand out in order to succeed. She was right, which is evident in the successes achieved by her daughters. Her daughters were always a great source of pride and joy for her.
As an example, when the family returned to the United States in 1965, her eldest daughter, Maria Luisa, was determined a special needs student because she did not speak English. Hilda, in her broken English, challenged the School District and asked them to give Maria Luisa a math test, which was a universal skill. Maria Luisa test scores were significantly above her grade level. The "Teacher" then said that for Maria to have a chance in life, only English should be spoken to her. Hilda quickly responded that her taxpayer dollars were paying the Educational System to teach her daughter English. She continued telling them that her broken English would not help her daughter, but her fluency in Spanish would give her daughter the advantage.
Hilda was married to Rosendo Elizondo for 42 years, until his death. Their marriage was one of great partnership, deep respect, and love for one another. They were united in every decision that mattered to the upbringing of their daughters. In one generation, they raised three professional women, caring mothers, copying the shining example of Hilda.
After Rosendo's passing in 2000, she lived for the rest of her life with daughter Angelina and her family in San Jose. Once again, her strong will was present in the home. She designed her granny suite on Gordon Avenue, made it clear that she was paying for it, so she could do whatever the heck she wanted. Angelina, Esau, Alejandro and Kiara had the privilege of her wisdom, love, and special character for over 20 years. She was never alone and always surrounded by love, loud music and family.
The daughters of Hilda want to express their deep gratitude to Martha and Sonia, the caregivers of Hilda. They provided loving care to Hilda in the final years of her life.
Hilda was a woman of faith and regularly attended mass until she was no longer physically able. In her final week, her daughter Cristina led the family in prayer. A Catholic priest stood by her bedside, administered a final blessing, and commended her soul into God. Hilda passed away in the comfort of her own home, in her own bed, surrounded by so much love, prayers and to the Mexican music that she loved.
Hilda is now once again dancing with her husband to the sounds of "Cien Años," as only the two of them can. Hilda's legacy of fierce love for her family lives on through her daughters and grandchildren.
Services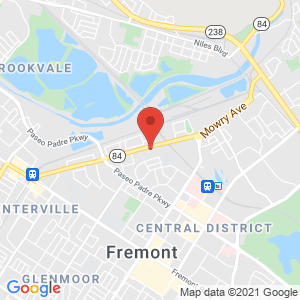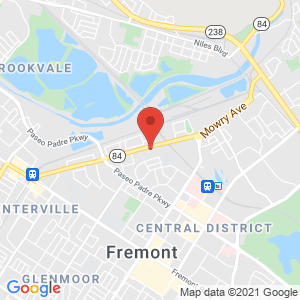 Five Wounds Catholic Church
1375 E Santa Clara Street
San Jose, CA
95116
Get Directions »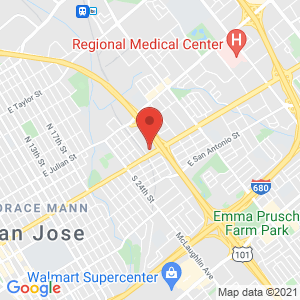 by Obituary Assistant